In search of hepatitis E virus infection in wild boar and cattle from Argentina
Palabras clave:
Sus scrofa, vigilancia epidemiológica, virus de hepatitits E
Resumen
En busca del virus de la hepatitis E en jabalíes y vacunos de Argentina. El virus de hepatitis E (VHE) es un patógeno con potencial zoonótico que afecta al cerdo doméstico, al jabalí Sus scrofa y al ser humano, entre otras especies. El VHE ha sido reportado en jabalíes de Argentina y Uruguay, pero el conocimiento acerca de la epidemiología de este virus es aún muy escaso en la región. El objetivo del presente estudio fue evaluar la circulación del VHE es poblaciones de jabalí y ganado vacuno en Argentina, a través de análisis serológicos (ELISA) y moleculares (PCR). No se hallaron muestras positivas. Sin embargo, se resalta la importancia de reportar casos negativos como insumo clave de futuras investigaciones y análisis de riesgo, sobre todo en relación a una posible transmisión del virus entre jabalíes y especies nativas susceptibles.
Citas
Anheyer-Behmenburg, H. E., K. Szabo, U. Schotte, A. Binder, G. Klein, & R. Johne. 2017. Hepatitis E virus in wild boars and spillover infection in red and roe deer, Germany, 2013–2015. Emerging Infectious Diseases 23:130–133.
Ballari, S. A., et al. 2019. Sus scrofa. Categorización 2019 de los mamíferos de Argentina según su riesgo de extinción. Lista Roja de los mamíferos de Argentina (SAyDS–SAREM, eds.). <http://cma.sarem.org.ar>.
Barrios-Garcia, M. N., & S. A. Ballari. 2012. Impact of wild boar (Sus scrofa) in its introduced and native range: a review. Biological Invasions 14:2283–2300.
De Souza, A. J., et al. 2012. HEV infection in swine from Eastern Brazilian Amazon: evidence of coinfection by different subtypes. Comparative Immunology, Microbiology & Infectious Diseases 35:477–485.
Forero, J., et al. 2015. Serological evidence of hepatitis E virus infection in Antioquia, Colombia slaughtered pigs. Revista MVZ Córdoba 20:4602–4613.
Halbur, P. G., et al. 2001. Comparative pathogenesis of infection of pigs with hepatitis E viruses recovered from a pig and a human. Journal of Clinical Microbiology 39:918–923.
Harrison, L. H., & E. DiCaprio. 2018. Hepatitis E virus: an emerging foodborne pathogen. Frontiers in Sustainable Food Systems 2:14.
Hoofnagle, J. H., K. E. Nelson, & R. H. Purcell. 2012. Hepatitis E. New England Journal of Medicine 367:1237–244.
Huang, F. F., et al. 2002. Detection by reverse transcription-PCR and genetic characterization of field isolates of swine hepatitis E virus from pigs in different geographic regions of the United States. Journal of Clinical Microbiology 40:1326–332.
Jakob-Hoff, R. M., S. C. MacDiarmid, C. Lees, P. S. Miller, D. Travis, & R. Kock. 2014. Manual of procedures for wildlife disease risk analysis. World Organisation for Animal Health, Paris. Published in association with the International Union for Conservation of Nature and the Species Survival Commission.
Kozyra, I., A. Jabłoński, E. Bigoraj, & A. Rzeżutka. 2020. Wild Boar as a sylvatic reservoir of hepatitis E virus in Poland: a cross-sectional population study. Viruses 12:1113.
Kwok, S., & R. Higuchi. 1989. Avoiding false positives with PCR. Nature 339:237–238.
La Sala, L. F., J. M. Burgos, A. L. Scorolli, K. VanderWaal, & S. M. Zalba. 2021. Trojan hosts: the menace of invasive vertebrates as vectors of pathogens in the Southern Cone of South America. Biological Invasions 23:2063–2076.
Mirazo, S., et al. 2018. Serological and virological survey of hepatitis E virus (HEV) in animal reservoirs from Uruguay reveals elevated prevalences and a very close phylogenetic relationship between swine and human strains. Veterinary Microbiology 213:21–27.
Munné, M. S., et al. 2006. Identification of the first strain of swine hepatitis E virus in South America and prevalence of anti-HEV antibodies in swine in Argentina. Journal of Medical Virology 78:1579–1583.
Pisano, M. B., M. G. Martinez-Wassaf, S. Mirazo, A. Fantilli, J. Arbiza, J. D. Debes, & V. E. Ré. 2018. Hepatitis E virus in South America: The current scenario. Liver International 38:1536–1546.
Pisano, M. B., M. Winter, N. Raimondo, M. G. Martínez-Wassaf, S. D. Abate, & V. E. Ré. 2019. New pieces in the transmission cycle of the hepatitis E virus in South America: first viral detection in wild boars from Argentina. Transactions of the Royal Society of Tropical Medicine and Hygiene 113:497–499.
Purcell, R. H., et al. 2011. Hepatitis E virus in rats, Los Angeles, California, USA. Emerging Infectious Diseases 17:2216–2222.
R Core Team. 2019. R: A language and environment for statistical computing. R Foundation for Statistical Computing, Vienna, Austria. <https://www.R-project.org/>.
Rein, D. B., G. A. Stevens, J. Theaker, J. S. Wittenborn, & S. T. Wiersma. 2012. The global burden of hepatitis E virus genotypes 1 and 2 in 2005. Hepatology 55:988–997.
Reinhardt, G., H. Ibarra, S. Riedemann, & I. Vega. 2003. Swine hepatitis E preliminary serological study in Chile. Archivos de Medicina Veterinaria 35:233–236.
Schielke, A., et al. 2015. Hepatitis E virus antibody prevalence in hunters from a district in Central Germany, 2013: A cross-sectional study providing evidence for the benefit of protective gloves during disembowelling of wild boars. BMC Infectious Diseases 15:1–8.
Spahr, C., T. Knauf-Witzens, T. Vahlenkamp, R. G. Ulrich, & R. Johne. 2018. Hepatitis E virus and related viruses in wild, domestic and zoo animals: A review. Zoonoses Public Health 65:11–29.
Stallknecht, D. E. 2007. Impediments to wildlife disease surveillance, research, and diagnostics. Current Topics in Microbiology and Immunology 315:445–461.
Van der Poel, W. H. 2014. Food and environmental routes of hepatitis E virus transmission. Current Opinion in Virology 4:91–96.
Vitral, C. L., M. A. Pinto, L. L. Lewis-Ximenez, Y. E. Khudyakov, D. R. dos Santos, & A. M. Gaspar. 2005. Serological evidence of hepatitis E virus infection in different animal species from the Southeast of Brazil. Memórias do Instituto Oswaldo Cruz 100:117–122.
Wei, D., Y. Zhao, Y. Jia, X. Hao, J. Situ, W. Yu, F. Huang, & H. Jiang. 2020. Hepatitis E virus infection in buffaloes in South China. Arquivo brasileiro de medicina veterinária e zootecnia 72:1122–1126.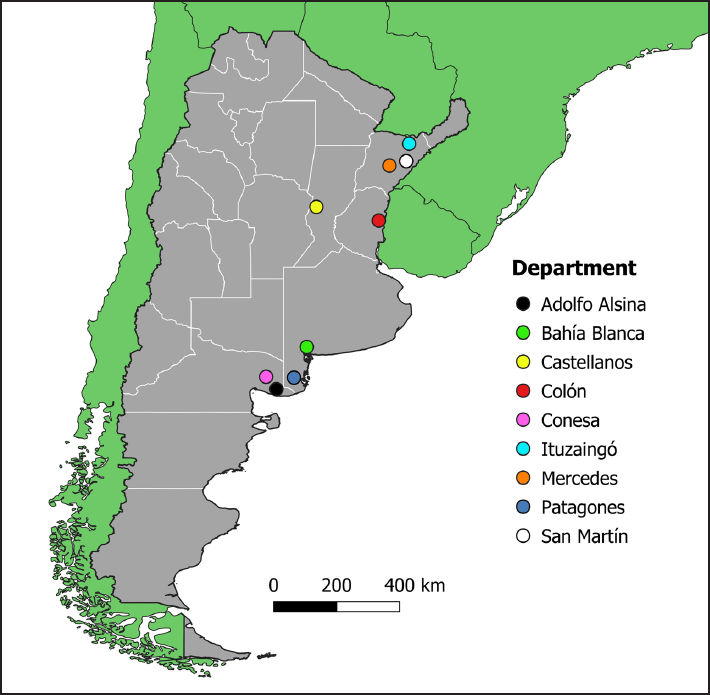 Descargas
Cómo citar
La Sala, L. F., Barandiaran, S., Eirin, M. E., Ferrara Muñiz, X., Abate, S., Sánchez Puch, S., Mathet, V., & Delfino, C. M. (2022). In search of hepatitis E virus infection in wild boar and cattle from Argentina. Notas Sobre Mamíferos Sudamericanos, 4. https://doi.org/10.31687/saremNMS22.1.2
Licencia
Derechos de autor 2022 Luciano F. La Sala, Soledad Barandiaran, María E. Eirin, Ximena Ferrara Muñiz, Sergio Abate, Silvia Sánchez Puch, Verónica Mathet, Cecilia M. Delfino
Esta obra está bajo una licencia internacional Creative Commons Atribución-NoComercial 4.0.